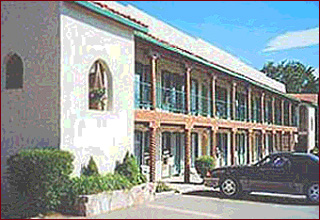 Taos Motel and RV Campground
Comfortable Lodging with Amenities at an Affordable Rate!

Make your stay in Taos, New Mexico pleasant yet affordable. The Taos Motel offers clean, modern lodging at rates that will keep you within your vacation budget. Whether skiing, hiking, fishing, rafting or just exploring the arts and culture, the Taos Motel's convenient location will put you in the middle of it all!
Are you driving your own room? Pull into Taos RV Park and hook up your recreational vehicle. The Taos GoodSam RV Park features 33 pull-through sites up to 40 feet long, with full hook-ups, kitchens for tenters and groups, internet and satellite TV, plus a club house and more!
Please contact the Taos Motel and RV Park with any questions you may have. The friendly staff at the Taos Motel & RV Park is committed to doing everything they can to help make your Taos vacation a perfect one!
The Taos Motel offers private motel rooms with bath, (and many with new queen sized beds), providing all the comfort you need. Enjoy cable television, Wi-Fi Broadband Internet connections and free local calls in your room. A complimentary continental breakfast is included with your lodging. Affordable rates also include commercial, seniors and AAA discounts. Pets are welcome, and children under eight always stay free! In-room coffee makes you feel right at home, and should you require a refrigerator or microwave, just ask.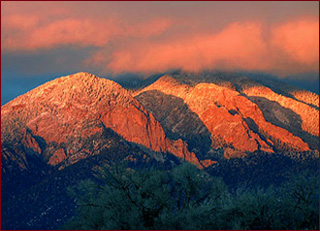 Plan your next reunion or gathering in beautiful Taos, New Mexico!

Planning a big family event soon? The Taos Motel and RV Park lodging facilities are perfect for your family reunion! Your family can enjoy comfortable and convenient lodging at the motel and RV Park. Your group is invited to make use of the club house located at the Taos RV Park for your family gatherings and events.
If you are working in Taos and will be staying for awhile, the Taos Motel offers "long-term" lodging rentals at reasonable weekly and monthly rates. This has also been helpful for those relocating to Taos, who are waiting to close on a house, and those who may be between homes or making repairs.
The motel is conveniently located on the Taos Chile bus line which stops at the RV Park next door.
The Taos Motel is proud to be the recipient of awards for excellence 11 years running because of their high standards in housekeeping and maintenance services, as well as their friendly customer service.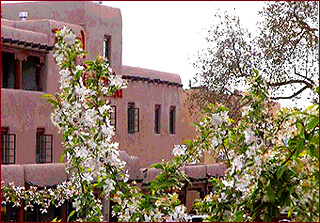 Enjoy the Perfect Vacation in Northern New Mexico, Year-round!
The Sangre de Cristo range of the Rocky Mountains provide a wealth of outdoor fun and adventure year-round! When the spring snowmelt swells Northern New Mexico's rivers, it's time to go whitewater rafting. There are trips available for every level of paddler, from a leisurely two or three day float down the Rio Chama, through multi-colored sandstone canyons filled with history and adventure, to Class IV and V rapids on the Taos Box section of the Rio Grande. Flyfishing for New Mexico's native cutthroat trout puts you in the middle of some of the most spectacular scenery the Great Southwest has to offer, and speaking of scenery, how about a bird's eye view of the high desert and Rocky Mountains? Northern New Mexico's terrain and air currents make it a natural for hot air ballooning.

Prefer to stick closer to the ground? Hike some of the million and a half acres of the Carson National Forest, through Aspen and Ponderosa Pine forests which suddenly open to expansive alpine meadows filled with wildflowers. And don't forget your camera! You'll have plenty of photo ops with the "locals," Rocky Mountain elk, deer, pronghorn antelope, big horn sheep, and snowshoe hares among others. Depending on the season you might see over 140 species of birds, including eagles, hawks, and of course, the Rocky Mountain Bluebird! And of course, you'll want plenty of photos to remember your vacation in Taos.

If you had a childhood dream of being a cowboy or cowgirl, there are trail rides galore available, from an hour on Taos Pueblo land, to several days in Northern New Mexico's jewel, Valle Vidal. A short trip on the Enchanted Circle to Red River continues the cowboy them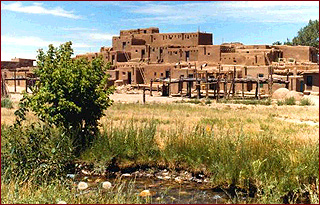 e with Cowboy Evenings, dinner and entertainment 'round the campfire.

And Northern New Mexico is the place for bikes, be they mountain or motorcycle. The Enchanted Circle area is a must for spectacular mountain biking trails, through mountainous terrain, or across high desert plateaus. Motorcycle enthusiasts find wide open roads winding through some of the most beautiful desert and alpine scenery this country has to offer. A favorite ride is to one of the local hot springs, where you can relax and wash away the dust, then hop back on your bike to dry off!

For those who enjoy cultural pursuits, the town of Taos has a rich and diverse history. The Taos Pueblo is America's oldest continually inhabited dwelling at over 1,100 years. A tour of the Pueblo is a must for visitors. And Taos was at one time one of the most important art colonies in the United States, with many talented artists still in residence. Taos has been home to such important artists and writers as Georgia O'Keeffe, D.H Lawrence, and Dennis Hopper. It was the summer vacation spot for Gordon "Pawnee Bill" Lilly and his sharpshooter wife, May. Buffalo Bill was a frequent visitor, as his daughter was a long-time Taos resident. Taos offers a number of fascinating museums to explore, as well as world-class art galleries, shopping and fine dining.

So save your money for the things that will create great memories on your Taos vacation, and enjoy your comfy home-away-from-home at the Taos Motel and RV Park.