Riverside Lodge Cabins & Condos
Set high in the Sangre de Cristo range of the Rocky Mountains, Red River New Mexico has been a summer vacation destination and a family friendly ski resort for decades. Vacationers return to Red River year after year through multiple generations. The Riverside Lodge, Condos and Cabins offers unique lodging facilities for families and groups on the scenic Red River.
Main Lodge at Riverside

The main lodge has eight one and two bedroom suites with private baths and both inside and outside entrances. Living and kitchen areas are comfortably furnished with televisions, DVD players, telephones, small refrigerators, microwaves and coffee pots. The lodge suites decor is reminiscent of rustic mid-century mountain lodges, with knotty pine walls.
The lodge common room is located on the main floor, and includes a wood burning fireplace, chairs, sofas and a piano providing a comfortable and convenient space for group get-togethers. The common kitchen seats up to 30 and is fully stocked with basic cooking essentials, silverware and dishes (specialty items such as blenders, mixers and crock-pots are not provided). The sun-room (or card room) is equipped with ski racks for the entire group to hang their equipment. The lodge common living area, kitchen and sun-room are perfect large groups, events and family reunions.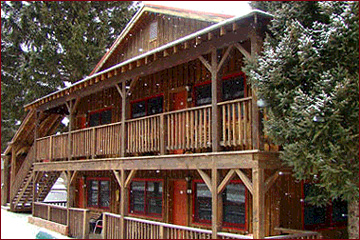 Riverside Cabins & Condos

The Riverside Lodge, Cabins and Condos has 30 one to three bedroom units referred to as the "cabins" or condo-type units, each equipped with a fully stocked kitchen, (dishes, silverware & basic cooking essentials) microwave and a coffee pot; and a living area that is furnished with a television, DVD player and a telephone. Fireplaces (gas log or wood burning) and dishwashers are available in some of these units (wood is provided). Visit the rates page on the website for detailed descriptions. The lodge and cabin / condo units form a horseshoe with a hot tub and the playground centrally located for the safety of your little ones.
Guests at the Riverside Lodge Condos and Cabins Enjoy:


• Free wireless internet access
• TV's have the basic satellite package
• Hot Tub (centrally located next to the playground)
• Barbecue grills (stationed throughout our property)
• Gazebo with a barbecue grill & picnic table for outdoor dining
• Playground, Horseshoe Pit, Basketball Hoop and a Shuffleboard setting
• The Riverside provides basketballs, horseshoes and shuffleboard equipment.
• Club House (A good place for the family to gather or meetings to take place)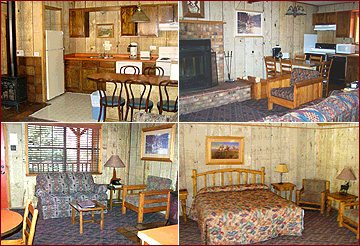 • Guest Laundry Facility
The Riverside Lodge, Condos and Cabins has a rich history. A small cabin was built on the Riverside property where the main lodge now stands sometime during Red River's gold rush days. Added onto over the years, it became Red River's first residence. Not long after, a grocery was added and by 1901 the owners were renting rooms.
The Riverside's present Innkeepers rebuilt or remodeled everything. Riverside has 30 cabins or condo-type units and 8 suites in the main lodge. The Riverside Lodge Condos and Cabins is located on a full city block in the center of Red River, across the street from the Community Center and adjacent to the Red River Ski Area's newest ski lift.
The Riverside property boasts lots of green area with a large, well-equipped playground, hot tub, central meeting room with patio, an outdoor B.B.Q. area, horseshoes, and shuffleboard.
Red River is a Year-Round Vacation Playground

Located on Northern New Mexico's Enchanted Circle Scenic Byway, Red River enjoys an almost ideal climate year-round. At over 8,500' elevation, winters are cold, clear and crisp, (except, of course when it's snowing!) with a dry climate that produces a uniquely powdery snow highly valued by skiers and snow boarders alike. Set in the middle of the million and a half acres of the Carson National Forest in the shadow of New Mexico's highest point, Wheeler Peak, cross-country skiing, snowmobiling, snow shoeing and tubing are very popular in the winter.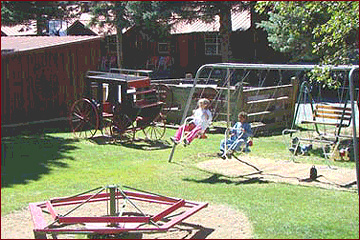 In the summer, vacationers flock to Red River to beat the heat and enjoy all the magnificent Rocky Mountains have to offer. The average summer temperature during the day in Red River is a comfortable 75° with cool nights and star-filled skies. In the summer visitors to Red River enjoy hiking, mountain and road biking, horseback riding - for an hour or several days, Jeep tours, and of course, fishing. You can even get off your horse at the end of a long day in the mountains, and mosey on over to a Cowboy Dinner, with great open air food and entertainment. Just down the road from Red River, you can go hot air ballooning, white water rafting and rock climbing. And of course, many enjoy the perfect opportunity Red River offers to relax, watching the hummingbirds and other abundant bird and wildlife, or taking a leisurely walk through an alpine meadow carpeted with wildflowers. (And don't forget your camera!)
But perhaps the biggest surprise Red River has to offer is all their fun events throughout the year. Red River is a tiny town that does everything in a big way, whether it is Mardi Gras, (That's right, the biggest Mardi Gras celebration outside of New Orleans is in Red River, NM!) Music Festivals, Chili Cook-Offs, a Memorial Day Weekend Motorcycle Rally or Spring Break, Red River knows how to show its guests a good time!